We are a consortium of the seven local Citizens Advice charities operating in Devon:
The Impact We Make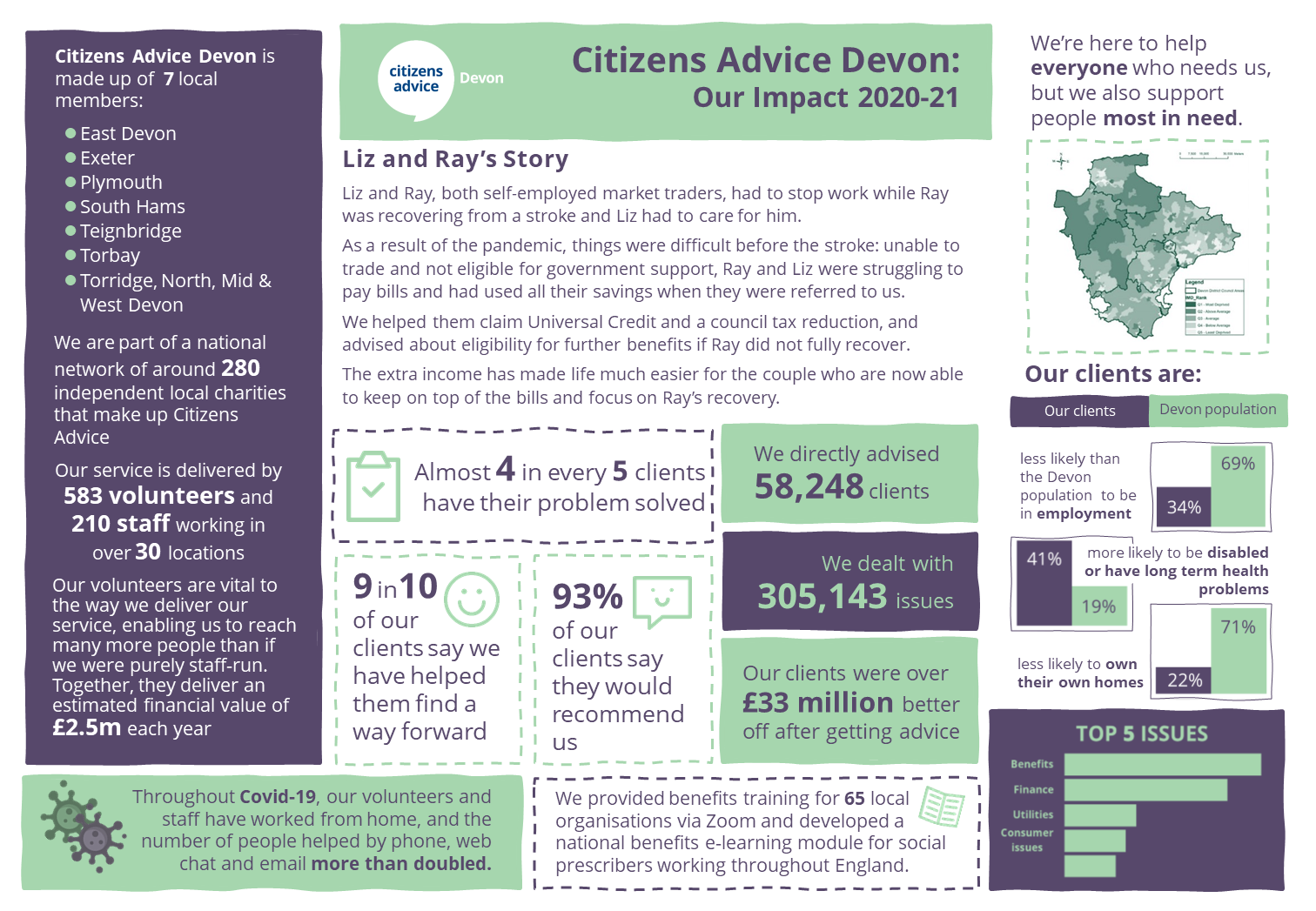 Download our Impact Report 2020-21
Our Aims And Objectives
Our core aim is to maintain a Citizens Advice service that is both relevant and accessible to the people of Devon. This means making sure people throughout Devon continue to have access to advice and information that:
Is of high quality and independently assessed;
Is available in ways and at times that suit people's needs, including by phone, digital and face-to-face channels.
Our key objectives for the next three years are to:
Work to achieve a sustainable future for the provision of Citizens Advice services throughout Devon.
Continue to develop our relationship with statutory organisations in Devon, including local authorities, health and police services, and look for imaginative and innovative ways to support their people focussed objectives.
Increase our collaborative working with key partners in the voluntary sector to achieve better outcomes and greater efficiencies.
Who We Are
The governing body (Trustee Board) of CAB Devon includes a Chair, Treasurer and representatives of the charities that are members of the Consortium.
The current board members are:
Edwina Bradshaw (Chair)
Matthew Byrne (Treasurer)
Alex Alder-Westlake (East Devon)
Kim McDonald (Exeter)
Christopher Mottram (South Hams & Plymouth)
Geoff Williams (Teignbridge)
TBA (Torbay)
Jilly Collins (Torridge, North, Mid & West Devon)
Keith Routledge (Torridge, North, Mid & West Devon)
Contact Us
If you want to find out more about the work of Citizens Advice Devon please contact businessdevelopment@cabdevon.org.uk
Please do not contact Citizens Advice Devon if you need advice. See our Advice page for details of how to get advice online, over the phone or in person at your local Citizens Advice office.
Our Latest Accounts
Our latest accounts and further details are published on the Charity Commission website